Festhalle, 26.09.2021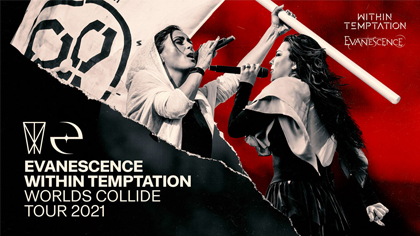 Begin: 8 p.m.

Doors open 6.30 p.m. via Entrance Festhalle Süd, Brüsseler Str.

Pricee: from 80,40 Euro
Evanescence & Within Temptation postpone European tour to September 2021
Due to ongoing contact restrictions and the ban on major events as well as existing travel restrictions, Evanescence and Within Temptation have to postpone their co-headline European tour again. The 'Worlds Collide' tour, which was originally scheduled to start in April 2020, will now be held in September 2021.

Initially, the concerts have been moved to September 2020 in the hope that the situation would have fundamentally improved by then. However, as the world is still fighting the corona virus, the shows have now been moved to next year. This also affects the German dates in Berlin, Leipzig, Munich and Frankfurt. Detailed information about the postponements can be found on the bands' websites and at worldscollidetour.net.

Tickets and VIP packages already purchased in advance will remain valid for the new dates.

Amy Lee, lead singer of Evanescence, regrets: "We are very disappointed that we won't be able to see you in autumn. But we accept the challenge we are facing this year and use the time to record a great album. Friends, we miss you terribly and can't wait to play for you next year! Stay healthy, we love you!"

Sharon den Adel, singer of Within Temptation, adds: "We know that this year is not easy for you. We are doing everything we can to bridge this time by composing and releasing new songs. Knowing that we won't be able to play for you this year is hard, but everyone's health and wellbeing is the highest priority. Whatever happens, this tour will happen! We can't wait to see you in 2021. Stay healthy!"

Contact details of the organiser
Live Nation GmbH, Mörikestr. 14, 60320 Frankfurt
Telefon: +49 69 9562020
Website: www.livenation.de
E-Mail: info@livenation.de
Your visit to the Festhalle
What can I bring with me, how can I get there and what measures are being taken to protect minors and ensure barrier-free access? Answers to these and many more questions can be found in the visitor area.
Further concerts and events can be found in our event calendar.